Cozumel, Mexico
Mexico's largest permanently inhabited island, Cozumel is located in the Caribbean Sea along the eastern side of the Yucatan Peninsula. The island is only about 30 miles long and 10 miles wide, but hosts one of the most biologicaly diverse underwater ecosystems in the Atlantic ocean. As Floridians, we are lucky to be so close to this worldwide destination!
Starting from
Availability: In Stock
Explore past Trip Photos (Click for Gallery)
Located on the waterfront one mile south of the downtown ferry dock, you'll find an attractive multi-level building of Spanish-Colonial architecture blending in with the waterfront. It may not draw the attention of a passing tourist, but a Scuba diver would tell you that this resort is something special. Word of mouth is how divers find their way here, and we're thrilled to be able to show you what the talk is about. Built in 1976 as Cozumel's first dedicated diver's resort, Scuba Club Cozumel is still a very intimate place, away from tourist traps, where Cozumel afficionados find convenience and good value. Designed and built, by divers for divers, to provide convenience and service for those who seek to explore the underwater world of the island.
Available Trip Options (Deposit required on booking is $400):
- 5 Night Stay, with 4 days of boat charter dives. Each charter day will consist of two dives.
- 7 Night Stay, with 6 days of boat charter dives. Each charter day will consist of two dives.
Room assignment determined at check-in. (We will do our best to request preference ahead of arrival)
Included:
Unlimited shore diving from the resort
Air tanks and hard lead weights
Storage locker at resort, don't forget a padlock!
Breakfast and lunch provided on-site
Coffee and water provided on-site
Not Included:
Airfare to Cozumel (call for assistance if you have questions about other traveler's arrangements)
Airport Shuttle ($8 each way)
Taxis and transport around the island
Mexico Sales & Sanitation taxes
All extra beverages
Park Fee $5 per/day
Gratuities for Divemasters / Boat crew, waiters and chambermaids
Dinner - many restaurants are a short ride from the resort.
Additional boat dives / services available for purchase:
Cenotes Diving: $120-170 + Travel expense
1 tank night dives: $60 + Tax
2 tank twilight dives: $85 + Tax
1 tank wreck dive: $60
Extra 2 tank boat day: $75 + Tax
Nitrox: $12/tank
PADI Advance Open Water Course: $350
PADI Nitrox Specialty: $150
PADI Night Diver Specialty: $100
Scuba-Cozumel Dive Center
Scuba-Cozumel is the in-house dive operation for Scuba Club Cozumel resort. This PADI 5-Star facility and full service dive center is located inside the hotel premises and includes an air filling station consisting of four compressors and a four-stage filtering system, a full line of rental gear and basic repairs shop. All diving activities and dive trips are coordinated and scheduled here.
Dive Boats
A fleet of seven customized diesel boats are available to safely transport divers to the dive sites. The boats are different sizes and can accommodate from 10 to 20 divers. They are fully equipped with dive platforms, sturdy ladders, marine radios, oxygen and first aid trained crew members! These boats will be ready for boarding every morning at the Club's comfortable pier, just after breakfast. Guests are normally assigned to the same boat, crew, and guide for the length of their stay.
Scuba-Cozumel Equipment Rental
| | |
| --- | --- |
| B.C. Jacket | $9.00 + tax per day |
| Regulator with depth & pressure gauge | $9.00 + tax per day |
| Wet Suit - Neoprene 3mm Shorty | $8.00 + tax per day |
| Mask | $2.00 + tax per day |
| Fins | $2.00 + tax per day |
| Snorkel | $1.00 + tax per day |
| One Tank, belt and weights | $6.50 + tax per day |
| Dive Light | $7.00 + tax per day |
| NITROX Tank | $10.00 per tank |
| Dive Computers | $9.00 + tax per day |
Gear Rinse and Storage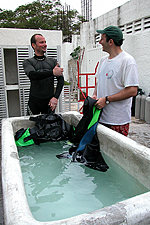 Dive gear lockers and freshwater rinsing tubs are conveniently located just a few steps away from the docks next to the dive center and on the opposite end of the beach next to the pool. It only takes a few minutes to rinse your equipment and put it away, ready for the next dive. Bring your own padlock for your locker, as they are not provided.
Unlimited Beach Diving
You'll find great diving right offshore from the resort. The jagged ironshore limestone wall gives refuge to many juvenile reef fish, lobsters, crabs, octopus, and even an occasional seahorse - great for macro photography. Depth is about 15'-25' and access is easy from either of the piers using the specially built stairs, complete with hand rails. A very easy exit is found through a tunnel, that leads to a waist deep saltwater pool and a short staircase up to the deck. Night dives here are fantastic, offering unique and memorable encounters with nocturnal sea life.
0 reviews for Cozumel, Mexico